</ img>
Sony is a legendary and extremely unusual (sometimes controversial) corporation that has a lot of
particularly interconnected units andproduces an incredible amount of electronics under its own brand. In particular, and audio. The range of Sony headphones is also extremely diverse: starting with cheap "disposable" models, "pop" versions of the middle segment, Bluetooth headsets with active noise reduction and ending with the legendary Sony MDR-7506 in certain circles or serious in-channel reinforcing and hybrid models with the corresponding sound. We came to the 4-driver reinforcing model Sony IER-M7, which is focused on the use of professional musicians. Although no one forbids the use of Sony IER-M7 for "household" listening to music.
What is it?
What are they interesting for?
What is in the box?
What does the Sony IER-M7 look like?
How comfortable and what's soundproofed?
How does the Sony IER-M7 sound?
In the dry residue
What is it?
Sony IER-M7 - in-ear reinforcement headphones with four-driver configuration, behind-the-ear mounting method and interchangeable cable with standard MMCX-connector.
</ p>
What are they interesting for?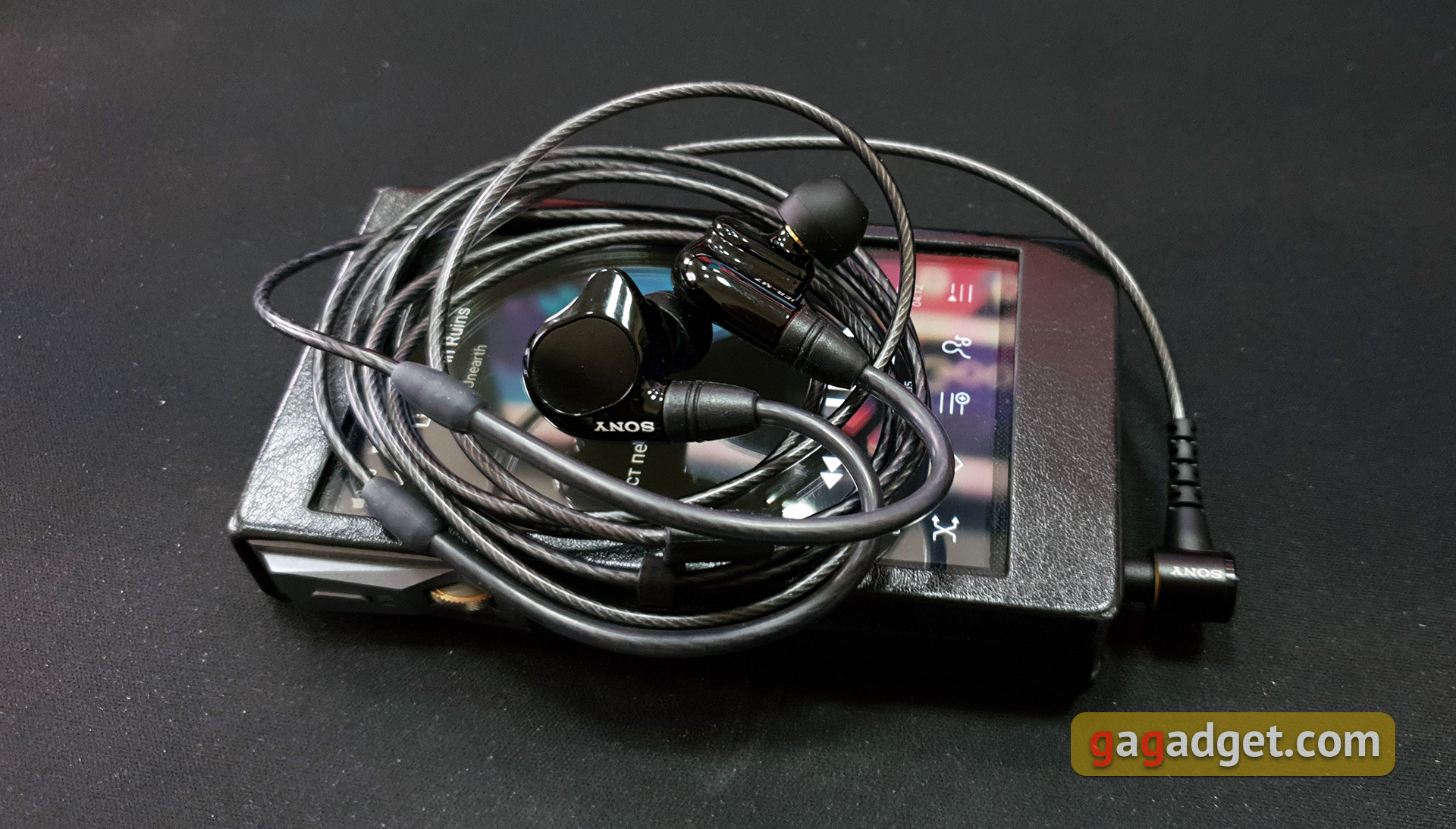 </ img>
Sony IER-M7 positioned by the company asprofessional model for stage monitoring. The sound is controlled by a system of four balanced emitters, which are placed in a magnesium alloy housing. The latter (according to Sony) should damp out unwanted vibrations. A wide copper sound conduit is designed to improve control and fidelity. We will check all this in practice. And of the obvious features - a replaceable cable with a standard MMCX connector and a behind-the-ear mount.
</ p>
What is in the box?

</ img>
The headphone delivery kit is far from alwaysinteresting, but this does not apply to expensive models, including the Sony IER-M7. The headphones are packed in a large box of black hard cardboard, on top of which is a white cover with technical information and an image of the headphones. Inside - a very impressive set: the headphones themselves, 7 pairs of Hybrid Silicone and 6 pairs of Triple Comfort ear pads of various sizes, a hard case for transportation, a cable winder, clothespin for attaching to clothes, a piece of microfiber for cleaning and two cables. One is standard with a 3.5mm connector, the other is a balanced 4.4mm Sony Pentaconn.

</ img>

</ img>
What does the Sony IER-M7 look like?

</ img>
Sony IER-M7 look pretty strict, which is impossiblecall a disadvantage. The outlines of the headphones are streamlined. The headphones are made of black plastic, mainly glossy, matte only the outer cover. Gloss collects fingerprints, but in this case it is not very critical:

</ img>
On the headphones there is a Sony logo, the name of the model, the country of production (Thailand, to be precise) and the designations left-right:

</ img>
Sound guides made of copper and placed at an angle(of course) and have a rim for reliable attachment of nozzles. Inside the sound guides are filters from something resembling foam rubber. The company claims that the sound guides are wide, although in practice they turned out to be quite standard. SpinFit "sat down" on them without any problems:

</ img>
The cable is removable with a standard MMCX connector. Although the overall design is not quite standard: the connector is located in a wide round recess, and the cable connector is located on the protruding part of red or gray (right or left), which just hides in this recess. But in practice, this does not prevent the use of a third-party cable. The balanced 2.5 mm Era Cables came up without problems:

</ img>
The complete cables have fixed softbehind the ear. In the kit Sony IER-M7, as we recall, there are two cables. Standard and balanced 4.4 mm Pentaconn. Both are made of oxygen-free silver-plated copper. Despite the fact that this is not a "braid", the complete cables are completely confused. And in general they are made very soundly. There is an adjustable divider, metal L-shaped connector:

</ img>
Sony IER-M7 do not catch the eye and look restrained. But, given the positioning, it should be so. High quality assembled.

</ img>
How comfortable and what's soundproofed?
In general, the Sony IER-M7 form can be called successful: the landing is deep, the headphones are light and do not stick out of the ears. The only moment that was noticed only after several hours of use - the headphones began to put a little pressure on a couple of places. Perhaps anatomical features, but it is worth considering and pre-trying. Especially if you plan to spend a lot of time on headphones without taking pictures (as I usually do). The cable is lightweight, it does not get confused, but nothing can be said about behavior in the cold. The earhooks were very pleased: they are without a memory effect and the possibility of adjustment, but this is not necessary. They are very comfortable and do not interfere at all.

</ img>
When using successful nozzles, you can getvery good sound insulation, which is enough to comfortably listen to music in the subway. Plus, the relatively standard size of the sound guide allows you to use your favorite third-party options. For example, foam Comply or the aforementioned SpinFit.
</ p>
How does the Sony IER-M7 sound?
For the sound in the headphones, a circuit of fourSony T-shaped reinforcing emitters for each headphone. They are housed in a magnesium alloy housing that (theoretically) removes unnecessary vibrations. Headphones are quite demanding on the source and quality of the listeners, although this is not surprising, especially in the price category above average. All recording flaws or source flaws you will definitely hear. But it's worth mentioning separately that you need not only quality, but also quantity: Sony IER-M7 turned out to be taut and a source with low output power simply does not "shake" them.

</ img>
Sony IER-M7 used with Centrance USB DACsDACport HD, iBasso DC01, Ficusrite 2i2 USB audio interface, FiiO X5 III and iBasso DX200 players. Headphones sound very neutral in color, but at the same time extremely detailed and informative. The emitters are perfectly aligned and produce a solid sound without obvious peaks or dips in the entire frequency range. In none of the sources does the sound become dark or too bright. By genre, the headphones turned out to be universal as well, and they coped well both with undemanding electronics / hip-hop and more complex instrumental genres, including classical music, jazz and various variations on the theme of metal. Just in these cases, it feels great how well all this reinforces and "rakes" even very high-speed, instrument-saturated pieces with a lot of notes per second.
Low frequencies are very collected and detailed, withexcellent speed and control. LFs are worked out with sufficient volume, massiveness and the presence of sub-bass in the right quantities. Without a hum, but with the necessary assertiveness. The mid-range sounds natural and very rich. Vocals and live instruments are very good. The imaginary scene is not amazing, but it is a little wider and deeper than you might expect from the in-ear headphones. With the separation of tools and plans, everything is fine. Treble have excellent detail and microdynamics, add space and "air" to the sound. However, they do not cut the ear, even in some specific sources, which are characteristic of it, no sibilants have been noticed.
All in all, the Sony IER-M7 sounds exactly like theirmanufacturer's position: accurate, neutral and honest. Without embellishment and without significant embellishment. On the one hand, this is good: for monitoring at a concert or studio this is exactly what you need. On the other hand, if you use the Sony IER-M7 as just headphones for listening to music at your pleasure, then just the emotionality might not be enough. But this is an exclusively taste issue. And, perhaps, a rich experience of listening to different headphones of different price segments. I prefer a brighter and more aggressive sound.
</ p>
In the dry residue
Having received the Sony IER-M7 for review, I was tunedvery skeptical. Perhaps due to the abundant experience with expensive models of more highly specialized companies. Subconsciously, I expected to get a "poppy" overly sleek and not very interesting sound. Sony IER-M7 really surprised me on the positive side: they delight you with a very accurate, balanced, lively and natural sound and do not lose in detail over the entire frequency range. In addition to the chic sound, they will delight future owners with a very good fit (albeit with reservations), excellent sound insulation and a removable cable. By the way, there are two of them, high-quality, standard and balanced 4.4 mm Pentaconn. The only objective argument against the Sony IER-M7 is their price 22 000 UAHwhich not everyone is ready to lay out for headphones. The remaining little things are exclusively individual and should be checked by yourself.
4 reasons to buy Sony IER-M7:
excellent sound quality;
Chic soundproofing
interchangeable cable (2 included);
practical materials and good build.
1 reason not to buy Sony IER-M7:
Sony IER-M7
Four-driver reinforcing in-ear headphones with excellent sound, behind-the-ear mounting method and interchangeable cable with standard MMCX connector
MOYO
Portable
Soundmag
Fxtrot
We recommend
Sony IER-M7
Emitters
4 reinforcing radiators
Frequency range
5 Hz - 40 000 Hz
Way of wearing
behind the ear
Impedance
24 ohm
Sensitivity
103 dB
Cable type
Removable MMCX, balanced, L-shaped connector
Length of cable
1.2 m, included standard and balanced 4.4 Pentaconn
For those that want to know more:
Campfire Audio IO Review: Two-Driver Pepper Ear Headphones
Sony WH-1000XM3 review: earphones that cannot be exceeded
Campfire Audio Polaris Review: The Brightest Star Among Hybrid Headphones
Whizzer A-HE03 Kylin review: "cozy" in-channel hybrid headphones
Kinera SEED Review: Universal Hybrid Headphones With A Delicious Price Tag